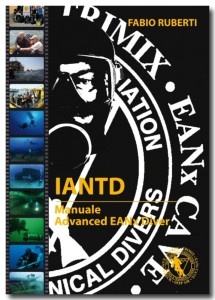 IL CORSO
Il corso IANTD Advanced EANx Diver è stato il primo programma in assoluto del suo genere, studiato appositamente per fornire un addestramento completo e adeguato a effettuare immersioni, fino ad una profondità massima di 42 m, con due miscele nitrox, una di fondo ed una di decompressione.  Questo corso IANTD è il più importante dopo quello iniziale e determina il definitivo passaggio da una attività ricreativa ad una più impegnativa. Il corso IANTD Advanced EANx Diver  permetterà ai subacquei  di acquisire consapevolezza, determinazione e senso di responsabilità che li metterà in grado di esplorare in sicurezza profondità maggiori e per tempi di permanenza più lunghi.
PANORAMICA DEL CORSO E SCOPO
Il primo passo è rappresentato dallo studio del manuale IANTD Advanced EANx Diver. Esso è stato specificatamente sviluppato per formare le conoscenze, l'addestramento e la maturità dell'allievo. Comprende le conoscenze teoriche dei  principi fisici e fisiologici, gli esercizi psicomotori, il giusto allenamento, la forma fisica, l'esperienza, la maturità caratteriale e la conoscenza dell'attrezzatura. Tutti argomenti indispensabili la cui padronanza è fondamentale per affrontare nel modo giusto le immersioni profonde con miscele Nitrox (EANx) fino a 42 metri di profondità con decompressione. Durante l'addestramento in acqua confinata e le immersioni l'allievo metterà in pratica quanto appreso, raffinando al massimo livello le sue capacità. Al termine del corso l'International Association of Nitrox and Technical Divers rilascerà il relativo brevetto.
PREREQUISITI DEL CORSO
Avere il brevetto IANTD EANx Diver e Deep Air Diver o equivalenti.
Avere 18 anni di età.
MATERIALI DIDATTICI DEL CORSO
Durante il corso è obbligatorio usare il manuale IANTD ADVANCED EANx DIVER con le relative tabelle d'immersione e adesivi. Le immersioni devono essere registrate sull'apposito libretto d'immersione e firmate dall'istruttore.
DURATA DEL CORSO
Otto (8) lezioni di teoria come previsto nel manuale.
Minimo una sessione di acque confinate per sviluppo abilità d'immersione.
Centoventi minuti d'immersione (tempo di fondo) minimo da effettuarsi in quattro (4) immersioni, delle quali due ad una profondità compresa tra 30 m e 42 m e una con profondità massima di 42 m.






by