BLU DEEP DIVING
C/O Palestra Blu Fit
Vicolo Boccacavalla  3/B
31044  Montebelluna (TV)  – Italia
tel. ++39 3472739731
www.bludeep.com
info@bludeep.com
IANTD Training Facility  N° 1069
Responsabili:
Enrico Basso (Presidente) – enrico.basso@bludeep.com
Jurek Lewandowsky (Vicepresidente) jurek@bludeep.com
Federico Gusson (Tesoriere) federico@bludeep.com
Alberto Lorenzon (Consigliere)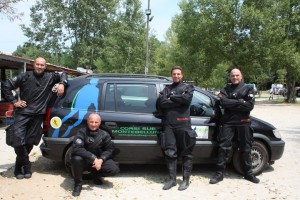 Siamo un gruppo di amici con la passione per il mare. La passione della subacquea ne è stata una naturale conseguenza. Ci siamo costituiti come associazione sportiva nel 2009 per porci degli obbiettivi e dei fini che non fossero solo il nostro divertimento personale. Abbiamo quindi deciso di mettere a disposizione la nostra esperienza acquisita, la nostra professionalità e il nostro entusiasmo.
Il nostro staff annovera istruttori con esperienza decennale in grado di soddisfare le più svariate richieste di brevetti subacquei: dai brevetti ricreativi, passando per i brevetti avanzati fino ai brevetti e le specializzazione più tecniche.
I brevetti che vengono rilasciati sono esclusivamente IANTD (International Association of Nitrox and Technical Divers), la più innovativa ed efficiente agenzia didattica al mondo. La consolidata esperienza maturata anche in spedizioni internazionali di esplorazione storico/scientifica è un notevole valore aggiunto della nostra associazione sportiva.
 La subacquea ricreativa è già di per sé piena di forti emozioni: esplorare il mondo sommerso, ammirarne gli scenari, la flora e la fauna, l'infinita moltitudine di colori, di luci e di ombre. La disciplina subacquea prevede dei corsi che, a vari livelli, ci abilitano in sicurezza a spingerci sempre oltre i nostri naturali limiti. Ciascuno può quindi decidere liberamente, a seconda delle proprie propensioni, quale traguardo raggiungere: i brevetti sono molti e specialistici.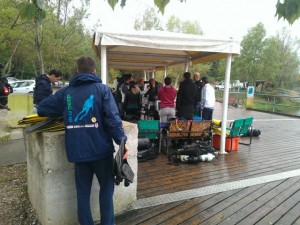 Come associazione sportiva cerchiamo di andare oltre, organizziamo e promuoviamo l'archeologia, le attività esplorative, la difesa dell'ambiente marino. Nelle varie uscite organizziamo immersioni in laghi, fiumi, al mare, in Italia e all'estero. Talvolta ci limitiamo a fare delle immersioni per il conseguimento dei brevetti, spesso organizziamo (dove possibile) dei barbecue in riva al mare. Cosa c'è di meglio dopo una bella immersione che mangiare tutti in compagnia?
La professionalità, l'amicizia, la semplicità, la voglia d'avventura, l'amore per il mare contraddistinguono il nostro gruppo. Se hai le nostre stesse affinità, chiamaci ti aspettiamo!






by